Tifa16 wrote:
I hate them both because when your trying to turn monsters into cards or draw magic they cause you alot of problems because they have a tendency to kill your enemies grrrrrr....which made it take longer.
Lol, I kinda agree with this. For low level strategy players, killing monsters can only result gaining EXPs...happened to me many times. Wanted to get moon stones (from Elnoyle) and also card Elnoyle for Pulse Ammo at Eshtar but Odin had to show up and puff the screen with lots and lots of unwanted EXPs.
Thats when it all ended with L1+R1+L2+R2+Start+Select.
_________________
LeonPayne at 20: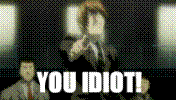 FF7 Comic - Chapter 3 Lucrecia & Vincent
NEW!!
Trailer