Haven't watched Hitman yet but I heard the movie was released at US on the 21st of nov, and 30th of nov at UK. Supposingly Vin Diesel is to cast Agent 47 but they've changed to Timothy Olyphant, but that doesn't matter much lol.
Now now, are they seriously releasing DragonBall Z the movie? o.0 I've seen the casts for Goku and Piccolo (looks so..well we can't say anything until we see the movie right?
)
_________________
LeonPayne at 20: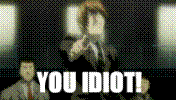 FF7 Comic - Chapter 3 Lucrecia & Vincent
NEW!!
Trailer