Quote:
"Square Enix has gone PC. On the first day of the show, the Japanese game publisher announced that Final Fantasy XIII is coming to PlayStation 3, Xbox 360 (in Europe and North America only) and PC. During a press conference following the Microsoft event, Final Fantasy XIII Producer Yoshinori Kitase discussed the new development strategy that Square Enix has taken with its upcoming games.

Aside from the new The Last Remnant game, which is being created for Xbox 360 and PS3 using Epic Games' Unreal Engine 3 externally, all new internally-developed games from Square Enix, including Final Fantasy XIII, Final Fantasy XIII Versus, and an untitled new massively multiplayer online game, utilize the new PC-based Crystal Tools development environment. These tools allow development teams to create cross-platform games.

"The content will be the same on all platforms," said Kitase. "However, we have yet to determine how many discs will be required for the 360 version. We'll have to consider the differences between formats. Currently the game is being built on PC, where it's actually functional. We're still focusing on making it work on PS3, so it's difficult to know how long the process of taking it to 360 will take."

Thanks to the new PC development platform, Kitase added, "Now that we're developing on a PC base, the pace is going a bit faster," Kitase said. "We haven't introduced new footage of the game, but we should be able to show something new in the near future."

Square Enix showed the beautiful pre-rendered trailer for Final Fantasy XIII at the end of the Microsoft press conference. The publisher has a big event scheduled for Tokyo next month where the first new information will be revealed on all Final Fantasy titles. Previously, the publisher released its online game, Final Fantasy XII, on Xbox 360 and PC."
http://www.nzone.com/object/nzone_e30802_home.html
(Couldn't get this link to work anymore?(article quoted from the above site))
Made on PC, ported to PS3 then ported to 360 (If what they mentioned was true later on since this is from July 2008 (PS3 version ported to 360)? A little convuluted no?
~~~~~~~~~~~~~~~~~~~~~~~~~~~~~~~~~~~~~~~~~~~~
Another funny thing...
Thanks to 2ch for the pics
The capacity of a Blu-ray disc is 25GB for a single layer, 50GB for dual layer, whilst a single layer DVD is 4.7GB and a dual layer one 8.5GB. Unfortunately, the Xbox 360 only has a DVD drive... Here is an artists rendition of what the Xbox version of FFXIII (being that the demo was 5 GB in size)
Conservative Guess
[spoil]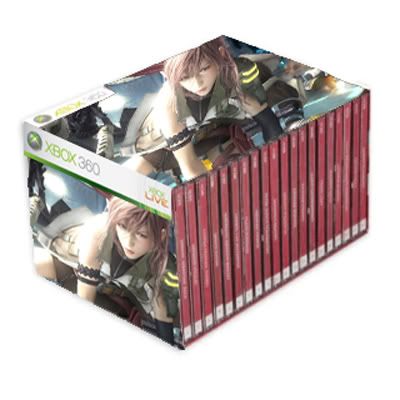 [/IMG]
20 Discs (Which is about 3 Dual layer Blu-ray discs and 1 single layer Blu Ray and that's if they use dual layer DVD's)
[/spoil]
Realistic Guess
[spoil]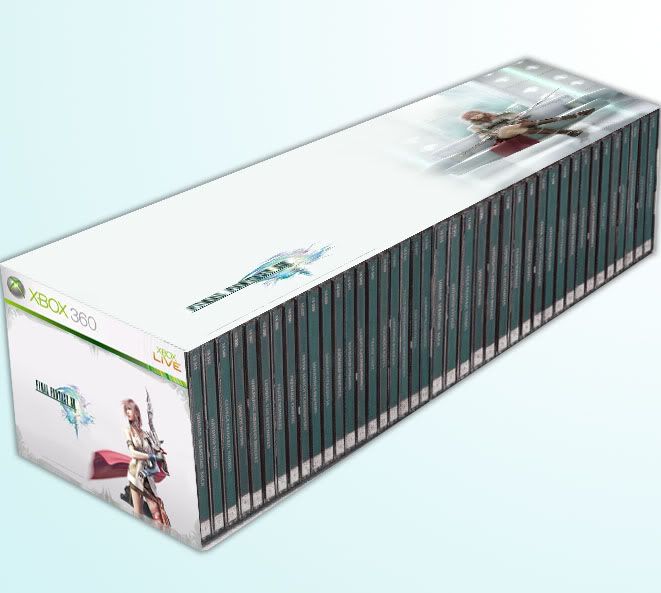 (Didn't even count or try and do the math...)
[/spoil]
With the size of games ever increasing, suddenly the economy of including a standard DVD drive does not seem so wise. Much disc-swapping appears to be on the horizon…
_________________
RIP Kurt von D. Father figure to me, friend, and all around good human being. (July 22nd, 2010).
~~
Reverse patronizing = troll lol
~~
If today is all we see, then tomorrow seems to me
Is just and illusion we believe.
~~
You should try and click a couple ads on

Funender

each day to generate some revenue.
~~